Acupuncture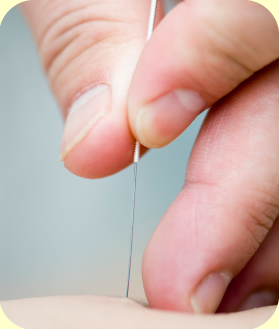 "Acupuncture is used to restore proper energy flow, and good health."
Acupuncture is an ancient Chinese practice based on the health benefits of qi, the vital life energy that flows through every living thing. Qi moves through the body along meridians, each of which is linked to a specific organ. If your energy is balanced, you will enjoy good health!
The Treatment
Disposable needles are inserted into specific points along the meridians. Most experience a warm, heavy or tingling sensation, all of which are normal.
The Benefits
More and more Americans are turning to acupuncture as a natural way to heal, without the side effects of drugs traditionally prescribed in Western medicine.
Studies have shown acupuncture to stimulate the production of endorphins, the bodies own natural painkillers, cortisol, which has an anti-inflammatory effect on the body and serotonin, a mood enhancer.
Acupuncture is effective for a wide variety of health problems, including sleep disorders, anxiety, depression, migraines, backache, digestive complaints, arthritis, gynecological disorders and many more. Together, we discuss the goals for your accupuncture treatment.
Infertility and Acupuncture
Acupuncture has been used for centuries by the Chinese to treat infertility. Couples world-wide have since had great success with acupuncture when modern medical treatments for infertility were unsuccessful.
Acupuncture enhances the circulation to the uterus and this in turn helps to thicken the uterine lining. Acupuncture also regulates and normalizes hormone levels. It is a relaxing experience and helps to decrease stress. All these factors increase the likelihood of a woman conceiving. This is a safe, natural and inexpensive approach to treating infertility.
Additionally, many couples receive acupuncture treatment as an adjunct therapy along with assisted reproductive technologies, including in vitro fertilization, increasing their changes of conceiving by 40% to 60%!
Initial Consultation
1 1/2 hr | $125
| Follow-up Treatments | 5 Treatment Package |
| --- | --- |
| 1 hr |  $80 | (6) 1 hr |  $420 |